Children's Couture is an award-winning Design Studio and Showroom where the artist, Mary-Alice Dalton, skillfully handcrafts each piece ensuring uncompromising quality with lasting beauty, value and enjoyment. Her designs are unique and stylish, fun and functional, and always a delight to see and wear. Her craftsmanship is superb, using couture and traditional construction techniques creating a timeless art piece to actively wear and enjoy today, then pass down from one generation to the next.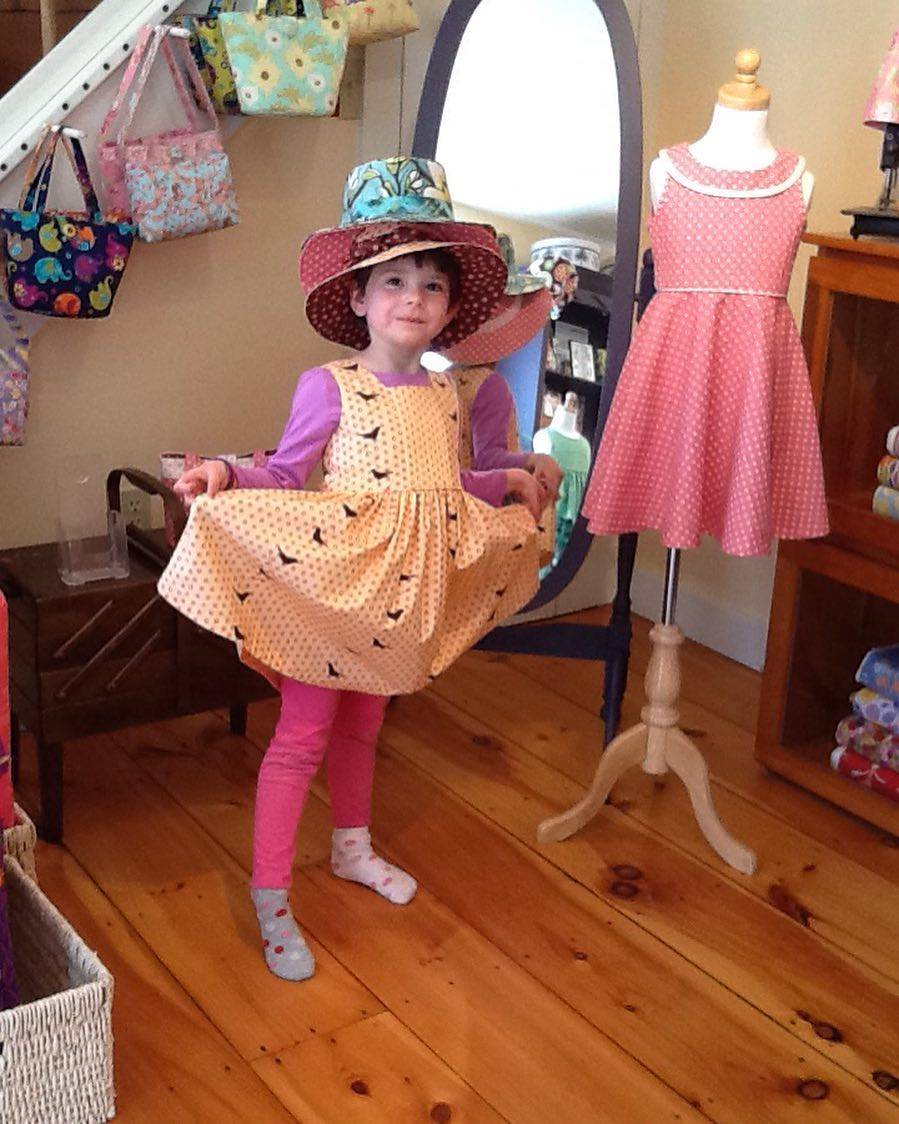 Each apparel piece is a masterful composition of design, detail, and technique featuring:
Artistic signature details; tiny pintucks, ruched piping (on limited pieces), hand-finished bias bindings, linings and hems, and impeccable topstitching creatively combined with distinctive styling and fabulous fabrics, all exclusive to the Children's Couture Apparel Collections.
Fabric-covered buttons adorn a center back opening.
An embellished back sash to tie into a pretty bow or stylish knot.
A lined bodice, finished seams, and attention to detail that add value to the finished piece.
Easy care; machine wash and dry in warm water, gentle cycles, and low heat. Press with a warm steam iron, if desired. High quality cotton fabrics make ironing a thing of the past.
A perfect fit, cut with room-to-grow for added comfort and extended wear; often 1 ½ - 2 years of wear for the toddler and girls' sizes.
Fabulous fabrics, exclusive to the Children's Couture brand, in a variety of colors, prints and motifs. All fabrics are premium 100% cottons from America's leading fabric manufacturers and work up beautifully for any occasion.
Three distinctive Apparel Collections are available for infant to preteen girls:
Limited Edition Collection: Classic, clean and chic describes this Collection, featuring year-round dresses and two-piece ensembles for any occasion and everyday wear. Signature details, original designs, couture construction, and fabulous fabrics are masterfully combined to produce a distinctive style line that's exclusively Children's Couture.
Basics Collection: A fresh and inviting Collection of sure-to-be favorites, with many of the signature details exclusive to Children's Couture. These delightful sundresses and jumpers are perfect for year-round everyday wear or any special occasion. Pairing practicality and comfort with delicious colors and prints, these are the pieces you'll both want in her wardrobe.
Mombo Combo Collection: Who can resist the sway of a beautiful skirt, the glamour of a pretty top, or the comfort of summer capris or cool-weather cozy corduroys? Introducing the latest Collection from Children's Couture, featuring separates you can mix-and-match with pieces already in her wardrobe. Pairing quality, comfort, and style with versatility … it's all here and ready for you!
Enjoy your shopping experience at Children's Couture, where 'couture' literally means the very best, and no piece is ever complete until it brings a big smile to you and one very special little girl.